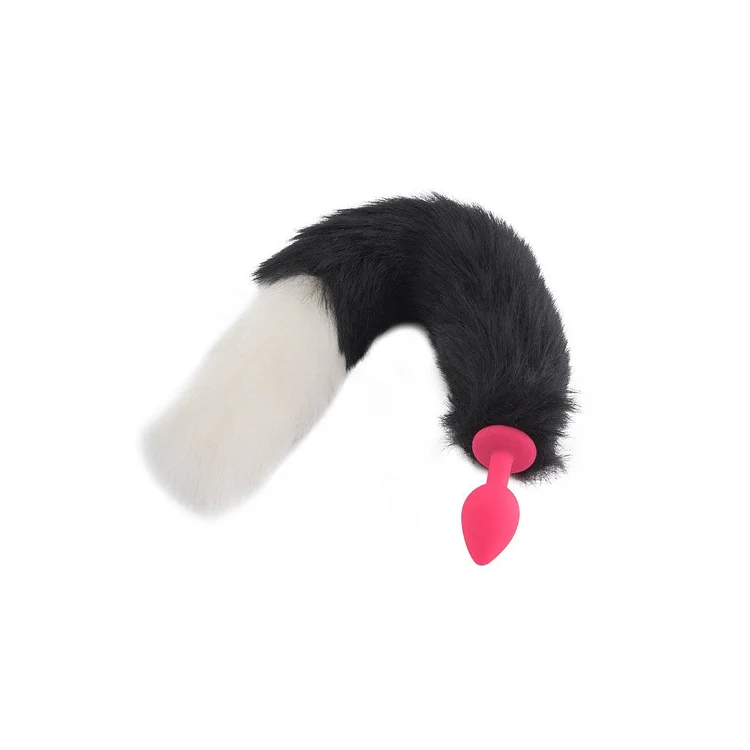 Want to look irresistibly hot? This super fluffy?wolf tail plug is all you need to bring your wildest sexual fantasies into reality.


It is the perfect addition to your bedroom role-play that will surely be fun, intense, and much more. It is no wonder why it continues to receive rave reviews from users who still can't believe the wondrous sensations it brings as it glides in smoothly and comfortably. It is a beautiful tail with the right colors and design. It also feels nice and soft as the furry tail brushes against the skin while it gracefully sways.

One of the best things about this black with white wolf tail is its smooth plug. The plug is made of squeezable and lightweight silicone, which gives you comfort and intense pleasure. Silicone is a premium material that is safe even to the most sensitive skin. The tear-shaped design snugly fits and doesn't fall off once inserted, no matter how vigorous and kinky your play becomes.

The plug is available in 3 sizes-small, medium, and large C to suit everyone's level of experience. It has a convenient length of 38 to 45 centimeters. And, with a weight of just 86.2g, the wolf tail is light enough to play around with while flirting with your partner.

The black with white wolf tail is easy to clean and maintain. The synthetic fur can be washed and blow-dried while the silicone plug can be cleaned with ease after you've had your endless sensual pleasure with it.

This sexy tail certainly makes a perfect gift for your partner, too. So why not both of you each wear such luxurious tails to spice up your sexual adventures and boost your desire?

With this beautiful wolf?tail plug, you will sizzle with hotness!
Product Details:
Specifications
Tail Type:
Normal short wolf tail
Colors:
Black with a white tail end
Plug Material:
Silicone
Length:
38 - 45cm / 18"
Plug: S: 2.95 in., M: 3.35 in., L: 3.74 in.
Width:
Plug: S: 1.10 in., M: 1.38 in., L: 1.61 in.
Weight:
86.2g
Ships:
Single Plug
If you have any questions, comments or suggestions for our products, service or website, you are welcome to contact us at any time. Our customer service team is on line 24 hours around the clock to be at your service wholeheartedly. You can contact us in the manners as follows:
Email Us
Send E-mails to us at:service@rose-toy.com.
We will try our best to provide for you a satisfactory reply within 24 hours. In the case of holidays, please wait patiently for one or two days. If a reply has not been received for a long time, please check the spam mails or the spam mails folder.
Return policy

To ensure that our products meet the needs of every customer. Read the following. If for some reason you are not satisfied with your purchase, we are willing to return or replace it for you, or give you a refund.


★ The following items are not returnable:

* Any items that have been worn, used or altered.

* Any item specified on its product page as non-returnable.

* Inventory clearance.

If you attempt to return a non-returnable item, the item will be shipped back to you and you will have to pay the shipping fee ($5).

Our return process

Please contact our customer support during our working hours by email, phone or live chat. Our customer service will answer your questions from 8:00 am to 8:00 PM EST (current time). Our team will provide you with instruments according to your specific requirements.

Please inform us of your refund or return or replacement request within 30 days of receipt.

If you want to exchange or return the product, please take a photo of the product and send it to us. We must confirm the condition of the goods.

All goods (including all parts and accessories) must be returned to us by express delivery.

If you want to replace it, you must bear the cost of our redelivery.

No commission will be charged for the return or replacement of goods caused by quality problems.


★ Refund: Credit card, Paypal.

We are committed to satisfying our customers and we encourage you to contact us if the product you purchase does not meet your requirements.


★ Precautions:

1. The customer shall return the product to the designated address. We will provide you with return information via email. Upon receipt of the return, we will arrange a full refund for you.

2. Return orders require that the order number be written on the outside of the package. Is this page helpful? If not, please contact us.


Requirements:

1. Items received within 30 days from the date of delivery.

2. The items received are unused, undamaged and in original packaging.