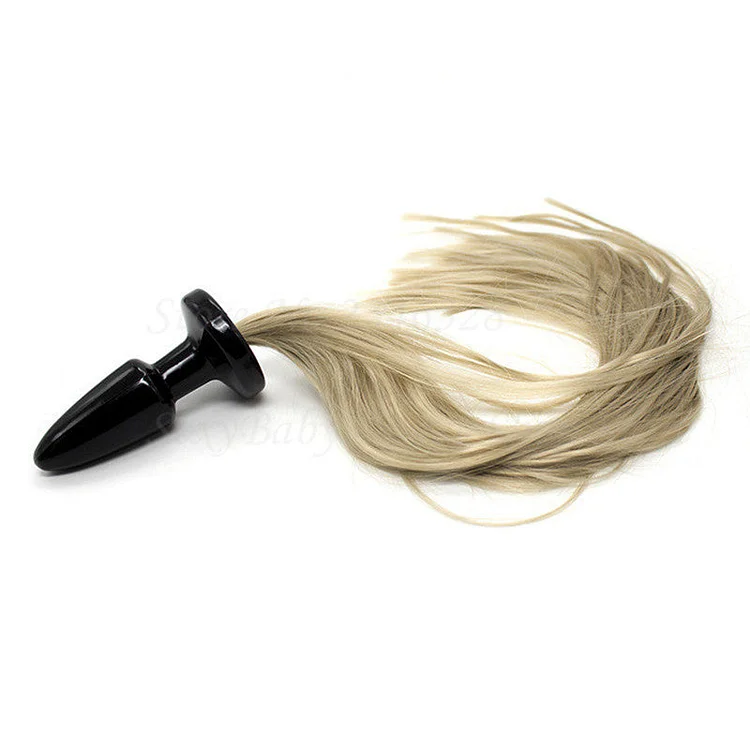 Adding a little kink into your sex life requires a great deal of thinking and a little bit of diving into things you have never tried before. It will surely give that element of surprise once you present your partner with something out of the ordinary. This blonde tail?plug can be that sex toy for you!

This device comes with a luxurious blonde pony tail that is sure to add extra boost to your foreplay. The smooth tail will sway with every move you'll make and can awaken those animalistic desires you have not known before.

This tail has a length of 50 cm, a very nice extent to enjoy during your pony play session. The base also acts as a stopper to prevent the toy from going up the ass. The plug is made of rubber, a great medium to fulfill your anal needs. It will not only massage the deepest parts of the anus but will also facilitate smooth insertion with the help of a water-soluble lube. Showcasing remarkable pliability, it won't cause discomfort during insertion or when it's already inside. The length of the plug is 11 cm with a width of 3.5 cm, just the right size to enjoy a good massage in the most sensitive areas of the ass.

This toy will surely fill all your carnal needs as it will warm up your ass for amazing anal intercourse. This toy can also be used in masturbation since it can be plugged inside the tush while your hands freely give the erotic areas of the body some good stroking. It will be ultimately gratifying as you are doubling the stimulation.

Prance like a horse and neigh with pleasure when you have this elegant pony tail! Buy now!
Specifications
Color

Tail: Blonde

Plug: Black

Type
Tail Plug
Material

Handle: Fiber

Plug: Thermoplastic Rubber

Dimensions

Length

handle: 50 cm (19.6 in.)

plug: 11 cm (4.33 in.)

Width

handle: N/A

plug: 3.5 cm (1.38 in.)
If you have any questions, comments or suggestions for our products, service or website, you are welcome to contact us at any time. Our customer service team is on line 24 hours around the clock to be at your service wholeheartedly. You can contact us in the manners as follows:
Email Us
Send E-mails to us at:[email protected].
We will try our best to provide for you a satisfactory reply within 24 hours. In the case of holidays, please wait patiently for one or two days. If a reply has not been received for a long time, please check the spam mails or the spam mails folder.
Return policy

To ensure that our products meet the needs of every customer. Read the following. If for some reason you are not satisfied with your purchase, we are willing to return or replace it for you, or give you a refund.


★ The following items are not returnable:

* Any items that have been worn, used or altered.

* Any item specified on its product page as non-returnable.

* Inventory clearance.

If you attempt to return a non-returnable item, the item will be shipped back to you and you will have to pay the shipping fee ($5).

Our return process

Please contact our customer support during our working hours by email, phone or live chat. Our customer service will answer your questions from 8:00 am to 8:00 PM EST (current time). Our team will provide you with instruments according to your specific requirements.

Please inform us of your refund or return or replacement request within 30 days of receipt.

If you want to exchange or return the product, please take a photo of the product and send it to us. We must confirm the condition of the goods.

All goods (including all parts and accessories) must be returned to us by express delivery.

If you want to replace it, you must bear the cost of our redelivery.

No commission will be charged for the return or replacement of goods caused by quality problems.


★ Refund: Credit card, Paypal.

We are committed to satisfying our customers and we encourage you to contact us if the product you purchase does not meet your requirements.


★ Precautions:

1. The customer shall return the product to the designated address. We will provide you with return information via email. Upon receipt of the return, we will arrange a full refund for you.

2. Return orders require that the order number be written on the outside of the package. Is this page helpful? If not, please contact us.


Requirements:

1. Items received within 30 days from the date of delivery.

2. The items received are unused, undamaged and in original packaging.