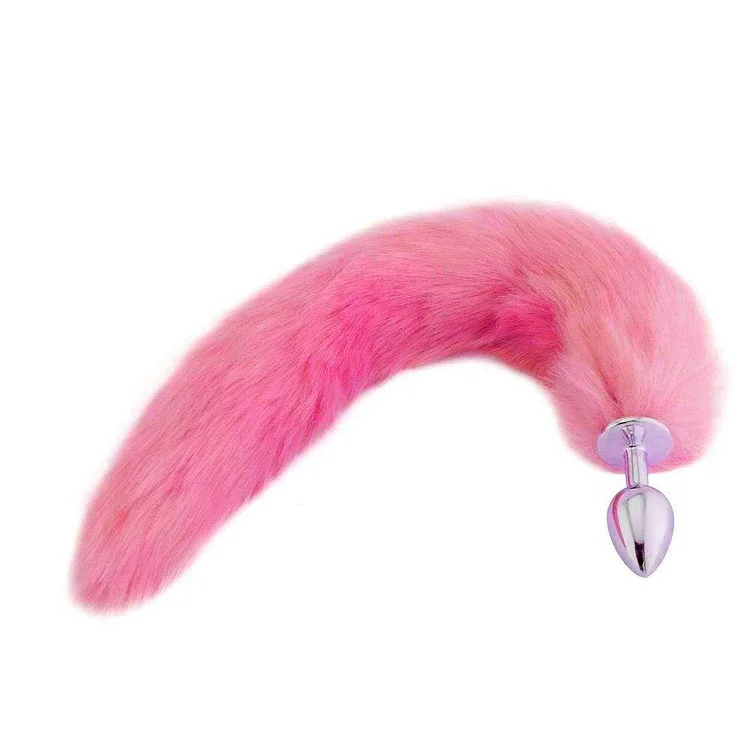 If flirting is your thing, then you need to get yourself this flirty tail. The length of the tail is perfect for swishing and whooshing, a perfect way to drive your partner ravenous for carnal pleasure. The flawless metal plug, which will keep your tail in place, measures 0.98in x 2.76in, so no matter how intense the play becomes, your tail wont come off.
You can carry out a lot of kinky plans with this luxe tail, which, by the way, comes in three colors: pink, purple, and white. Pick pink if your furry partner loves it. The light shade of purple is feminine, elegant, and graceful. White, on the other hand, is associated with virginity and simplicity. Or why not buy them all to play a range of pussy cat personalities in the bedroom? It would be fun and thrilling!
Unleash your coquettish personality even more by pairing the tail with animal ears. Then, play some raunchy music in the background and shake your booty to sway your soft, lush tail. Tease your honey in many ways you can because, with this fluffy tail draping over your thighs, youll never run out of naughty plans. Wearing this tail pleases not only your playmate but also you, of course! Feel its soft and thrilling strokes every time it brushes against your thighs, sending pleasant shivers down your spine.
When its booty time, dont take it off as keeping it in your bum will intensify the pressure. The greater the pressure, the more powerful the orgasms youll have.
To maintain the fluffiness of your tail, wash it gently in cold water and mild soap. Use a hair-dryer and brush it afterward. As for the metal plug, wash and dry it before and after use to prevent contamination between uses.
Cant wait to have a racy evening with your honey with this incredibly soft tail? Add it to your cart, check out, and it will be sent right away!
Specifications
Color
Pink, Purple, White (tail), Silver (plug)
Type
Tail Plug
Material

Handle: Faux fur

Plug: Metal

Dimensions

Length

Handle: 16.5in-17.7in.

Plug: 2.76in.

Width

Handle: N/A

Plug: 0.98in.
If you have any questions, comments or suggestions for our products, service or website, you are welcome to contact us at any time. Our customer service team is on line 24 hours around the clock to be at your service wholeheartedly. You can contact us in the manners as follows:
Email Us
Send E-mails to us at:[email protected].
We will try our best to provide for you a satisfactory reply within 24 hours. In the case of holidays, please wait patiently for one or two days. If a reply has not been received for a long time, please check the spam mails or the spam mails folder.
Return policy

To ensure that our products meet the needs of every customer. Read the following. If for some reason you are not satisfied with your purchase, we are willing to return or replace it for you, or give you a refund.


★ The following items are not returnable:

* Any items that have been worn, used or altered.

* Any item specified on its product page as non-returnable.

* Inventory clearance.

If you attempt to return a non-returnable item, the item will be shipped back to you and you will have to pay the shipping fee ($5).

Our return process

Please contact our customer support during our working hours by email, phone or live chat. Our customer service will answer your questions from 8:00 am to 8:00 PM EST (current time). Our team will provide you with instruments according to your specific requirements.

Please inform us of your refund or return or replacement request within 30 days of receipt.

If you want to exchange or return the product, please take a photo of the product and send it to us. We must confirm the condition of the goods.

All goods (including all parts and accessories) must be returned to us by express delivery.

If you want to replace it, you must bear the cost of our redelivery.

No commission will be charged for the return or replacement of goods caused by quality problems.


★ Refund: Credit card, Paypal.

We are committed to satisfying our customers and we encourage you to contact us if the product you purchase does not meet your requirements.


★ Precautions:

1. The customer shall return the product to the designated address. We will provide you with return information via email. Upon receipt of the return, we will arrange a full refund for you.

2. Return orders require that the order number be written on the outside of the package. Is this page helpful? If not, please contact us.


Requirements:

1. Items received within 30 days from the date of delivery.

2. The items received are unused, undamaged and in original packaging.