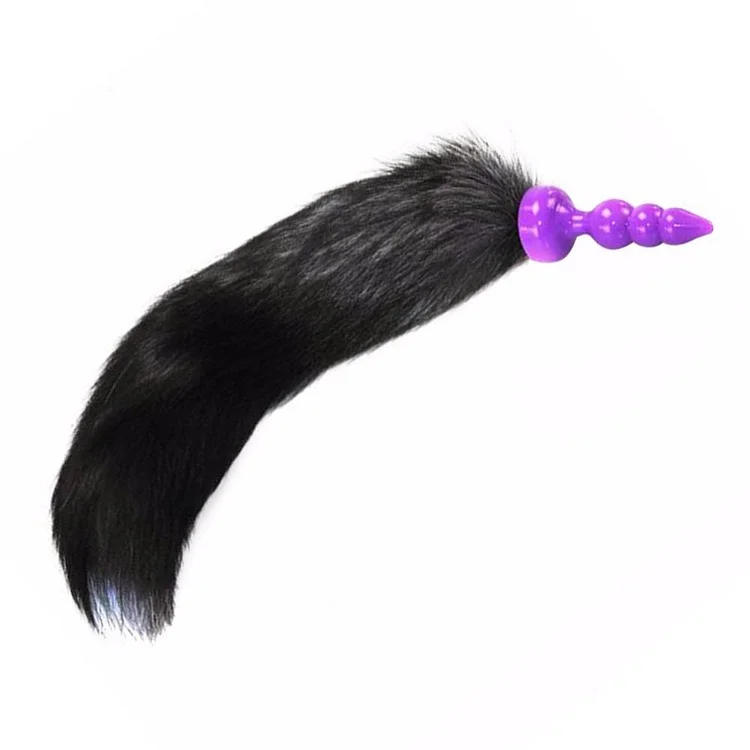 Craving for some novelty in the bedroom? Its virtually easy to quench that thirst with this black cat tail and transform yourself into a ravishing, coquettish cat woman!
The distinctive design of the plug with three beads and ergonomic curves is specially intended for achieving the highest levels of arousal and erotic stimulation. Soft, tender silicone as the base material further enhances excitement, while the fuzzy gentleness of the fur tail will add that extra special ingredient to your kinky cosplay.
Lush, luxe, and fluffy, the tail will beautifully drape and hang over your thighs. Sway it with a booty shake to turn on your man. Look impeccably alluring with this tail, and surely, youll never run out of kinky ideas to intensify the foreplay. Move like a felineoozing with confidence and sassinessand your partner will be captivated head over heels. Ask him to brush it as part of your flirting ritual.
With every move, feel the fullness in your bum. Experience the power of double penetration that will surely make you see the stars. This pleasure is not only yours to feel but shared with your man. Hell feel the pressure while he thrusts into your pussy and will definitely enjoy the unique sensations from the beaded plug on the other side of the wall.
To ensure that the tail provides you with lasting enjoyment, give it the proper care it needs. When you wash it, do not use warm or hot water to prevent the color from fading. Gentle hand washing is recommended. Hang to dry, then brush it to keep it fluffy.
The silicone plug should also be kept hygienic for safe use. Wash it in warm soapy water, rinse, and dry. The recommended lube is water-based. Keep it slippery and wet for easy insertion and extraction because friction ruins pleasure in anal play.
Ready to purr? Buy this sexy tail for a much more thrilling and titillating sex play!
Specifications
Color
Black, (tail), purple (plug)
Type
Tail Plug
Material

Handle: Faux fur

Plug: Silicone

Dimensions

Length

Tail: 16.54in

plug: 4.33in

Width

Tail: 4.33 in

plug: 0.86in, 0.98in, 1.18in.
If you have any questions, comments or suggestions for our products, service or website, you are welcome to contact us at any time. Our customer service team is on line 24 hours around the clock to be at your service wholeheartedly. You can contact us in the manners as follows:
Email Us
Send E-mails to us at:service@rose-toy.com.
We will try our best to provide for you a satisfactory reply within 24 hours. In the case of holidays, please wait patiently for one or two days. If a reply has not been received for a long time, please check the spam mails or the spam mails folder.
Return policy

To ensure that our products meet the needs of every customer. Read the following. If for some reason you are not satisfied with your purchase, we are willing to return or replace it for you, or give you a refund.


★ The following items are not returnable:

* Any items that have been worn, used or altered.

* Any item specified on its product page as non-returnable.

* Inventory clearance.

If you attempt to return a non-returnable item, the item will be shipped back to you and you will have to pay the shipping fee ($5).

Our return process

Please contact our customer support during our working hours by email, phone or live chat. Our customer service will answer your questions from 8:00 am to 8:00 PM EST (current time). Our team will provide you with instruments according to your specific requirements.

Please inform us of your refund or return or replacement request within 30 days of receipt.

If you want to exchange or return the product, please take a photo of the product and send it to us. We must confirm the condition of the goods.

All goods (including all parts and accessories) must be returned to us by express delivery.

If you want to replace it, you must bear the cost of our redelivery.

No commission will be charged for the return or replacement of goods caused by quality problems.


★ Refund: Credit card, Paypal.

We are committed to satisfying our customers and we encourage you to contact us if the product you purchase does not meet your requirements.


★ Precautions:

1. The customer shall return the product to the designated address. We will provide you with return information via email. Upon receipt of the return, we will arrange a full refund for you.

2. Return orders require that the order number be written on the outside of the package. Is this page helpful? If not, please contact us.


Requirements:

1. Items received within 30 days from the date of delivery.

2. The items received are unused, undamaged and in original packaging.