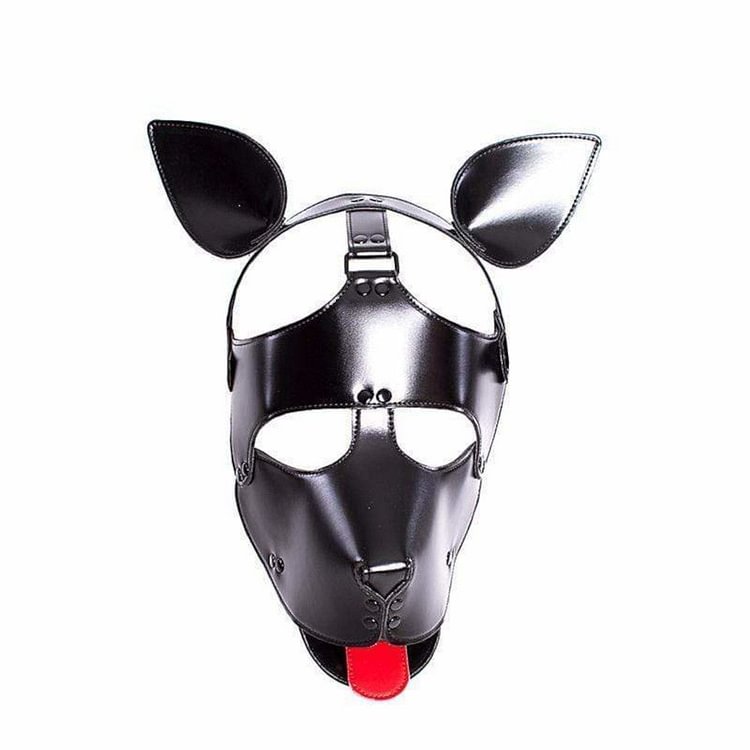 You were fascinated by how your pet dogs make babies. You loved to watch your male dog thrusting his penis into your female hound. And for some bizarre reason, seeing your pets doing these hanky-panky things made you as hard as a rock. You also imagined how it was like to fuck a dog.

Well, here's an accessory that will make your wild kinky fantasies come true! This fetish mask will turn you into a big black human dog in no time. This fetishistic headpiece covers the wearer's face, which lets your partner's imagination run wild as you fuck her from her behind. Nonetheless, it has eyeholes, enabling you to see her body reaction as you thrust deep and fast into her wet, puckered hole. The snout also has a small triangular hole, helping you to breathe easily, no matter how long you wear it. Last are the ears on the head and the tongue sticking out of its mouth, completing the doggy look.

The mask is fully adjustablethanks to the buckle closure, there is no need to measure your head size to get this kinky disguise to fit you perfectly. Instead, you only need to move the buckle to get the precise fit.

It's also made of synthetic leather, which means no animal was harmed while creating this mask. So if you love animalsand wish to be like onethen this is perfect for you!

Like any other kinky tools made of synthetic leather, this fetish-y disguise should be cleaned before and after each use. Wipe its surface down with a wet, clean cloth, then buff it with a dry fabric right after. Be sure to clean the interior part, too, to remove human secretions that could irritate your skin.

Turn yourself into a wild sexy beast and howl with pleasure when you put this dog mask on. Get one now!

Specifications
| | |
| --- | --- |
| Color/Type | Black |
| Material | Synthetic Leather |
| Dimension | Length: One Size |
| | Width/Diameter: Adjustable |
If you have any questions, comments or suggestions for our products, service or website, you are welcome to contact us at any time. Our customer service team is on line 24 hours around the clock to be at your service wholeheartedly. You can contact us in the manners as follows:
Email Us
Send E-mails to us at:[email protected] Or Send E-mails to: [email protected]
We will try our best to provide for you a satisfactory reply within 24 hours. In the case of holidays, please wait patiently for one or two days. If a reply has not been received for a long time, please check the spam mails or the spam mails folder.
Return policy

To ensure that our products meet the needs of every customer. Read the following. If for some reason you are not satisfied with your purchase, we are willing to return or replace it for you, or give you a refund.


★ The following items are not returnable:

* Any items that have been worn, used or altered.

* Any item specified on its product page as non-returnable.

* Inventory clearance.

If you attempt to return a non-returnable item, the item will be shipped back to you and you will have to pay the shipping fee ($5).

Our return process

Please contact our customer support during our working hours by email, phone or live chat. Our customer service will answer your questions from 8:00 am to 8:00 PM EST (current time). Our team will provide you with instruments according to your specific requirements.

Please inform us of your refund or return or replacement request within 30 days of receipt.

If you want to exchange or return the product, please take a photo of the product and send it to us. We must confirm the condition of the goods.

All goods (including all parts and accessories) must be returned to us by express delivery.

If you want to replace it, you must bear the cost of our redelivery.

No commission will be charged for the return or replacement of goods caused by quality problems.


★ Refund: Credit card, Paypal.

We are committed to satisfying our customers and we encourage you to contact us if the product you purchase does not meet your requirements.


★ Precautions:

1. The customer shall return the product to the designated address. We will provide you with return information via email. Upon receipt of the return, we will arrange a full refund for you.

2. Return orders require that the order number be written on the outside of the package. Is this page helpful? If not, please contact us.


Requirements:

1. Items received within 30 days from the date of delivery.

2. The items received are unused, undamaged and in original packaging.