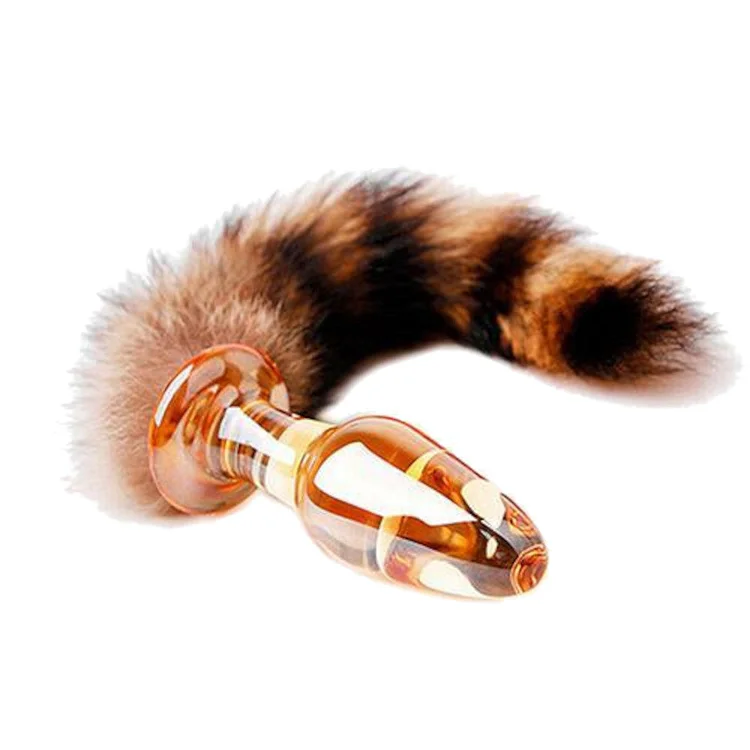 Sex feels awesome, but it could get boring or too common sometimes. Once everything feels and looks familiar, it becomes unexciting. That is why we are always in pursuit of ways and means to bring the element of surprise to please our partners and wow ourselves, too! How about surprising your significant other with this raccoon tail plug? This bad boy features an exquisite glass plug which delivers that lusty fullness you've always craved for.
With a length of 10 cm and a width of 2.5 cm, this plug is the perfect starter kit for those novices out there who are inexperienced in anal stimulation. Although small, this plug will surely hit those sensitive areas in the ass. It will also deliver a sense of fullness that will render an amazing anal climax. If you're worried about a plug traveling and getting lost in your rectum, fret no more as it has a disc-shaped base that will prevent the plug from being completely sucked in.
This plug is so versatile that you can use it in countless sexual acts! How about livening up your oral foreplay by incorporating the erotic pleasure from a tail plug and the joy of hands-free experience? The result is a magnificently blissful climax which you have not felt before! Single and love doing it solo? This butt plug is the perfect toy to take it to the next level.
Place the plug inside, start those familiar strokes and you will see a big difference! You can even use the soft, fluffy tail to tickle your butt cheeks! With each sensual, titillating brush, you'll be ecstatic! This tail plug is truly primed to give you decadent pleasure.
Experience new sensations because the possibilities are endless. Try it and discover a whole new world of anal pleasure you've never had before!
Specifications
Color

Handle: Brown

Plug: Black, Clear, Golden, Green

Type
Tail Plug
Material

Handle: Acrylic Fibers

Plug: Glass

Dimensions
Length

handle: 27 cm (10.63in)

plug: 10 cm (3.93in)

Width

handle: N/A

plug: 2.5 cm (0.98in)
If you have any questions, comments or suggestions for our products, service or website, you are welcome to contact us at any time. Our customer service team is on line 24 hours around the clock to be at your service wholeheartedly. You can contact us in the manners as follows:
Email Us
Send E-mails to us at:[email protected].
We will try our best to provide for you a satisfactory reply within 24 hours. In the case of holidays, please wait patiently for one or two days. If a reply has not been received for a long time, please check the spam mails or the spam mails folder.
Return policy

To ensure that our products meet the needs of every customer. Read the following. If for some reason you are not satisfied with your purchase, we are willing to return or replace it for you, or give you a refund.


★ The following items are not returnable:

* Any items that have been worn, used or altered.

* Any item specified on its product page as non-returnable.

* Inventory clearance.

If you attempt to return a non-returnable item, the item will be shipped back to you and you will have to pay the shipping fee ($5).

Our return process

Please contact our customer support during our working hours by email, phone or live chat. Our customer service will answer your questions from 8:00 am to 8:00 PM EST (current time). Our team will provide you with instruments according to your specific requirements.

Please inform us of your refund or return or replacement request within 30 days of receipt.

If you want to exchange or return the product, please take a photo of the product and send it to us. We must confirm the condition of the goods.

All goods (including all parts and accessories) must be returned to us by express delivery.

If you want to replace it, you must bear the cost of our redelivery.

No commission will be charged for the return or replacement of goods caused by quality problems.


★ Refund: Credit card, Paypal.

We are committed to satisfying our customers and we encourage you to contact us if the product you purchase does not meet your requirements.


★ Precautions:

1. The customer shall return the product to the designated address. We will provide you with return information via email. Upon receipt of the return, we will arrange a full refund for you.

2. Return orders require that the order number be written on the outside of the package. Is this page helpful? If not, please contact us.


Requirements:

1. Items received within 30 days from the date of delivery.

2. The items received are unused, undamaged and in original packaging.