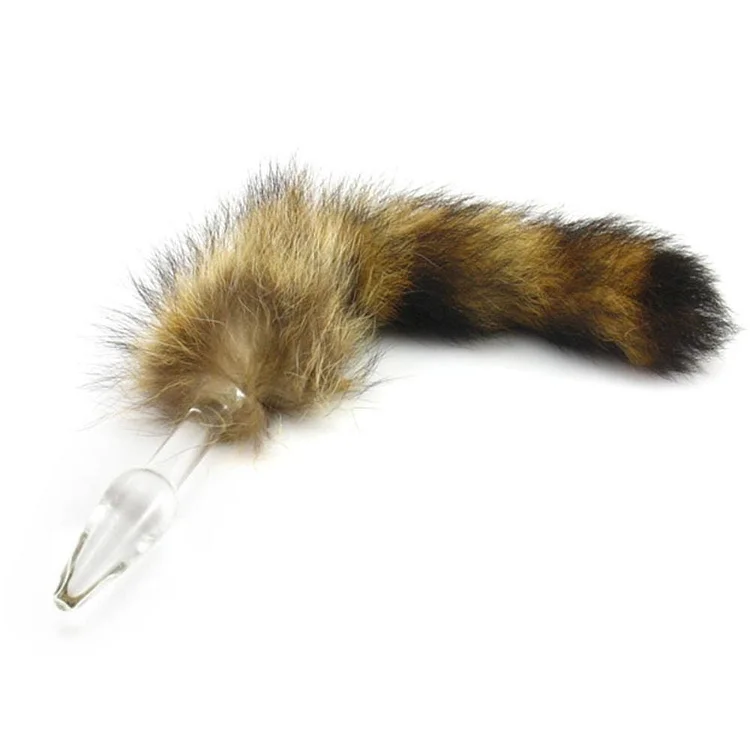 Make your wildest sexual fantasies come true and make your partner wild with raccoon tail plug. Ideal for temperature play, this toy will drive you both crazy and inspire you to experiment. With a solid, tough build, this butt plug is great for anal enthusiasts looking for more savory flavors to spice up pillow time. With 1 inch of girth and 3.9 of length, it will provide you with incredible anal stimulation while the tail drapes over your thighs. Release your animalistic side to eliminate all inhibitions and gratify your carnal needs!
Get ready for a sexual encounter with your honey by soaking the glass plug in a bowl of ice. Once made cold, chill your partner to the bones to awaken all his senses. If you like sizzling foreplay, dunk it in a glass of hot water to make your partner feel the heat. Avoid dipping the tail in hot water, though.
With a soft and fluffy tail, you can come up with a myriad of kinky ways that will surely fire up intimacy in the bedroom. Putting on this tail already assures your captivating allure, and all you need to do is to give life to the tail. Sway your hips and flaunt your booty to pump up your partner's libido.
To fully enjoy the experience, remember to wash your toy before use. Dry it naturally then its ready for lubrication. Although glass is very smooth, you want to make sure it slides in with the aid of a lubricant. Trust us, you dont like friction in anal play because its painful and can injure the delicate walls of your sphincter. After your wild, intimate session, do not forget to wash and dry before storing it. Since the plug is made of Pyrex, keeping it hygienic is a breeze. Wash it in warm soapy water or sterilize it if you want it bacteria-free.
We know youre looking for something extra special to spice up your sex life, so buy raccoon tail plug!
Specifications
Color
Black, Gold, Transparent, Green
Type
Tail Plug
Material

Handle: Fur

Plug: Pyrex glass

Dimensions
Length: 3.94in (plug)
Width : 1.0in (plug)
If you have any questions, comments or suggestions for our products, service or website, you are welcome to contact us at any time. Our customer service team is on line 24 hours around the clock to be at your service wholeheartedly. You can contact us in the manners as follows:
Email Us
Send E-mails to us at:[email protected].
We will try our best to provide for you a satisfactory reply within 24 hours. In the case of holidays, please wait patiently for one or two days. If a reply has not been received for a long time, please check the spam mails or the spam mails folder.
Return policy

To ensure that our products meet the needs of every customer. Read the following. If for some reason you are not satisfied with your purchase, we are willing to return or replace it for you, or give you a refund.


★ The following items are not returnable:

* Any items that have been worn, used or altered.

* Any item specified on its product page as non-returnable.

* Inventory clearance.

If you attempt to return a non-returnable item, the item will be shipped back to you and you will have to pay the shipping fee ($5).

Our return process

Please contact our customer support during our working hours by email, phone or live chat. Our customer service will answer your questions from 8:00 am to 8:00 PM EST (current time). Our team will provide you with instruments according to your specific requirements.

Please inform us of your refund or return or replacement request within 30 days of receipt.

If you want to exchange or return the product, please take a photo of the product and send it to us. We must confirm the condition of the goods.

All goods (including all parts and accessories) must be returned to us by express delivery.

If you want to replace it, you must bear the cost of our redelivery.

No commission will be charged for the return or replacement of goods caused by quality problems.


★ Refund: Credit card, Paypal.

We are committed to satisfying our customers and we encourage you to contact us if the product you purchase does not meet your requirements.


★ Precautions:

1. The customer shall return the product to the designated address. We will provide you with return information via email. Upon receipt of the return, we will arrange a full refund for you.

2. Return orders require that the order number be written on the outside of the package. Is this page helpful? If not, please contact us.


Requirements:

1. Items received within 30 days from the date of delivery.

2. The items received are unused, undamaged and in original packaging.