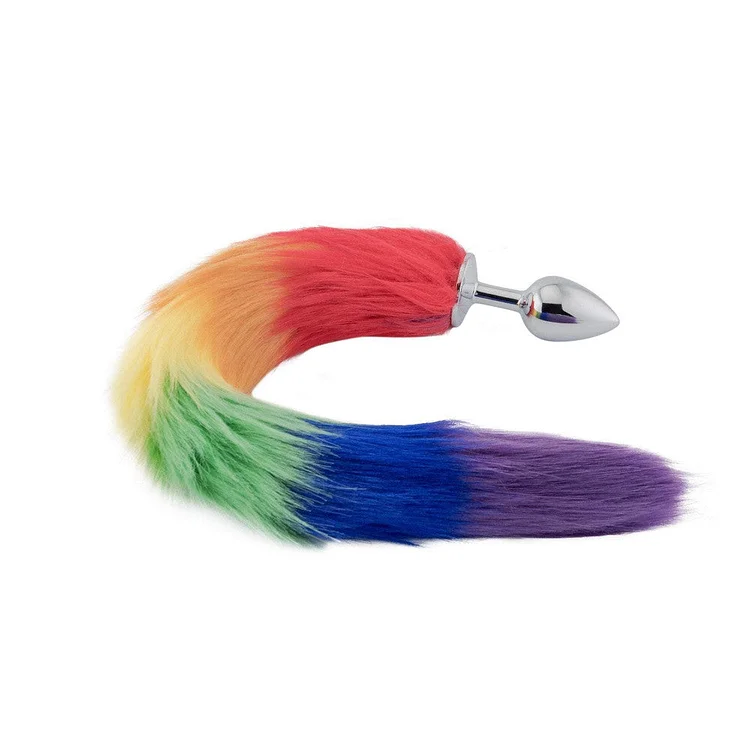 Thinking of a more indulgent way to spice up your sex life? You can do it with fox tail metal plug. It is a perfect way to explore your wildest fantasies and bring them into reality right inside your bedroom.


The beautiful anal foxtail displays an enticing mix of rainbow colors to turn you into a flirtatious and sultry vixen or a playful male fox. If you love role-plays with the wildest fantasies imaginable, then this rainbow-colored fox tail is just perfect for you and your playmate.

The metal plug is made of 100% safe medical-grade stainless steel that glides easily and stays put for as long as you wish. It is designed to give you a comfortable fit for long-term wear. Send your partner into heights of pleasurable oral stimulation with this unique multicolored fox tail plugged into their butt.

If you are concerned about size, this short fox tail comes in small, medium, and large sizes to fit everyone. If you apply your favorite lube on the smooth surface, you will definitely enjoy the pleasurable sensation as it slides through your tight and narrow orifice. The entire tail is also lightweight at just 70.5 grams.

The soft, luxe synthetic tail is about 18 inches in length, long enough to make your booty inviting and luscious, so shake that booty with confidence to sway your extra-ordinary tail. The plug, on the other hand, will give you that amazing full feeling the whole time you have the tail on.

Keeping this remarkable toy in tip-top condition is easy. The furry tail can be washed in lukewarm water with shampoo, then blow-dry to keep it fluffy. The plug, being non-porous, will not take so much of your time to clean it.

If you are looking for a perfect gift for your sexual partner, one that will bring loads of fun for the both of you in the bedroom, then definitely go for this multicolored fox tail butt plug. It will be much appreciated, especially if you have a more adventurous partner.

Hit the "Add to Cart" button now!
Specifications
Tail Type:
Tail Plugs
Colors:
Rainbow color
Plug Material:
Stainless Steel
Length:
Tail: 38 - 45cm / 18"
Plug: S: 2.95 in., M: 3.35 in., L: 3.74 in.
Width:
Plug: S: 1.10 in., M: 1.38 in., L: 1.61 in.
Weight:
70.5g
Ships:
Single Plug
If you have any questions, comments or suggestions for our products, service or website, you are welcome to contact us at any time. Our customer service team is on line 24 hours around the clock to be at your service wholeheartedly. You can contact us in the manners as follows:
Email Us
Send E-mails to us at:service@rose-toy.com.
We will try our best to provide for you a satisfactory reply within 24 hours. In the case of holidays, please wait patiently for one or two days. If a reply has not been received for a long time, please check the spam mails or the spam mails folder.
Return policy

To ensure that our products meet the needs of every customer. Read the following. If for some reason you are not satisfied with your purchase, we are willing to return or replace it for you, or give you a refund.


★ The following items are not returnable:

* Any items that have been worn, used or altered.

* Any item specified on its product page as non-returnable.

* Inventory clearance.

If you attempt to return a non-returnable item, the item will be shipped back to you and you will have to pay the shipping fee ($5).

Our return process

Please contact our customer support during our working hours by email, phone or live chat. Our customer service will answer your questions from 8:00 am to 8:00 PM EST (current time). Our team will provide you with instruments according to your specific requirements.

Please inform us of your refund or return or replacement request within 30 days of receipt.

If you want to exchange or return the product, please take a photo of the product and send it to us. We must confirm the condition of the goods.

All goods (including all parts and accessories) must be returned to us by express delivery.

If you want to replace it, you must bear the cost of our redelivery.

No commission will be charged for the return or replacement of goods caused by quality problems.


★ Refund: Credit card, Paypal.

We are committed to satisfying our customers and we encourage you to contact us if the product you purchase does not meet your requirements.


★ Precautions:

1. The customer shall return the product to the designated address. We will provide you with return information via email. Upon receipt of the return, we will arrange a full refund for you.

2. Return orders require that the order number be written on the outside of the package. Is this page helpful? If not, please contact us.


Requirements:

1. Items received within 30 days from the date of delivery.

2. The items received are unused, undamaged and in original packaging.